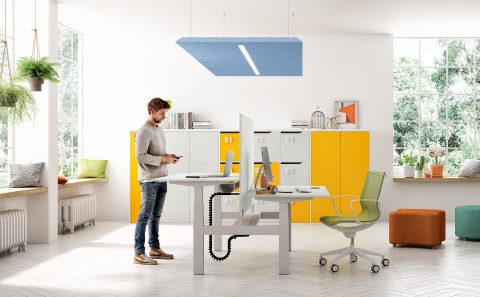 Ergonomics
Ergonomic office solutions
Solution
Executive, Operational, Hospitality, Meeting
For a flexible, people-friendly office
Solutions for working with your physical well-being in mind.
Talking about ergonomics in the office means talking about everything that reduces the risk of injury and increases well-being in the workplace. Among other things, the furniture itself plays a key role.
Height-adjustable desks, for example, allow workers to easily change their posture from sitting to standing in the course of the day, which has a positive impact on their physical health.
Sitting all day is certainly not good for you. But standing constantly is also not good for either comfort or health. A height-adjustable electric desk offers the best of both worlds. Do you want an increase in productivity and energy? Press a button to raise the desk and move around a bit while you work. Want to relax in your chair to concentrate? Press another button to lower the desk.
Dynamism in the Office
Feeling good at work is the basis for productivity. Discover Arredoufficio's solutions for a truly ergonomic office
Discover More